I was nervous about the long flight, the stories I had heard about New York, and the terrible event of the previous year. Yes, my one and only visit took place a year after 9/11. We came in to land at night, lights sparkled below us, but I was sitting in a middle aisle and unable to take in the whole view. The airport officials made me nervous, especially their guns.
We took a cab to Manhattan and I got my first view of the city by night from ground level. Our hotel room was a few floors up, which gave me another perspective, but it wasn't until we stepped out onto the roof restaurant balcony that it really hit me. This was New York!
We spent several days walking the grid of numbered streets and avenues, until some became familiar, as did the jazzy sound of traffic and voices, accents so different to my own. We got chatting to bartenders and waiters, visited Battery Park, but were unable to catch the ferry due to a thick fog, and then we got caught in a heavy downpour. When the early autumn sunshine returned, we visited Central Park and, on one occasion, watched part of the marathon, and went up the Empire State Building. Yes, we have tall buildings in London, but nothing as tall as the ones in Manhattan. The pace of life felt familiar but the rhythm was something else.
brownstone bass line
scat rhythm of yellow cabs
leaves fall in the park
Kim M. Russell, 25th May 2020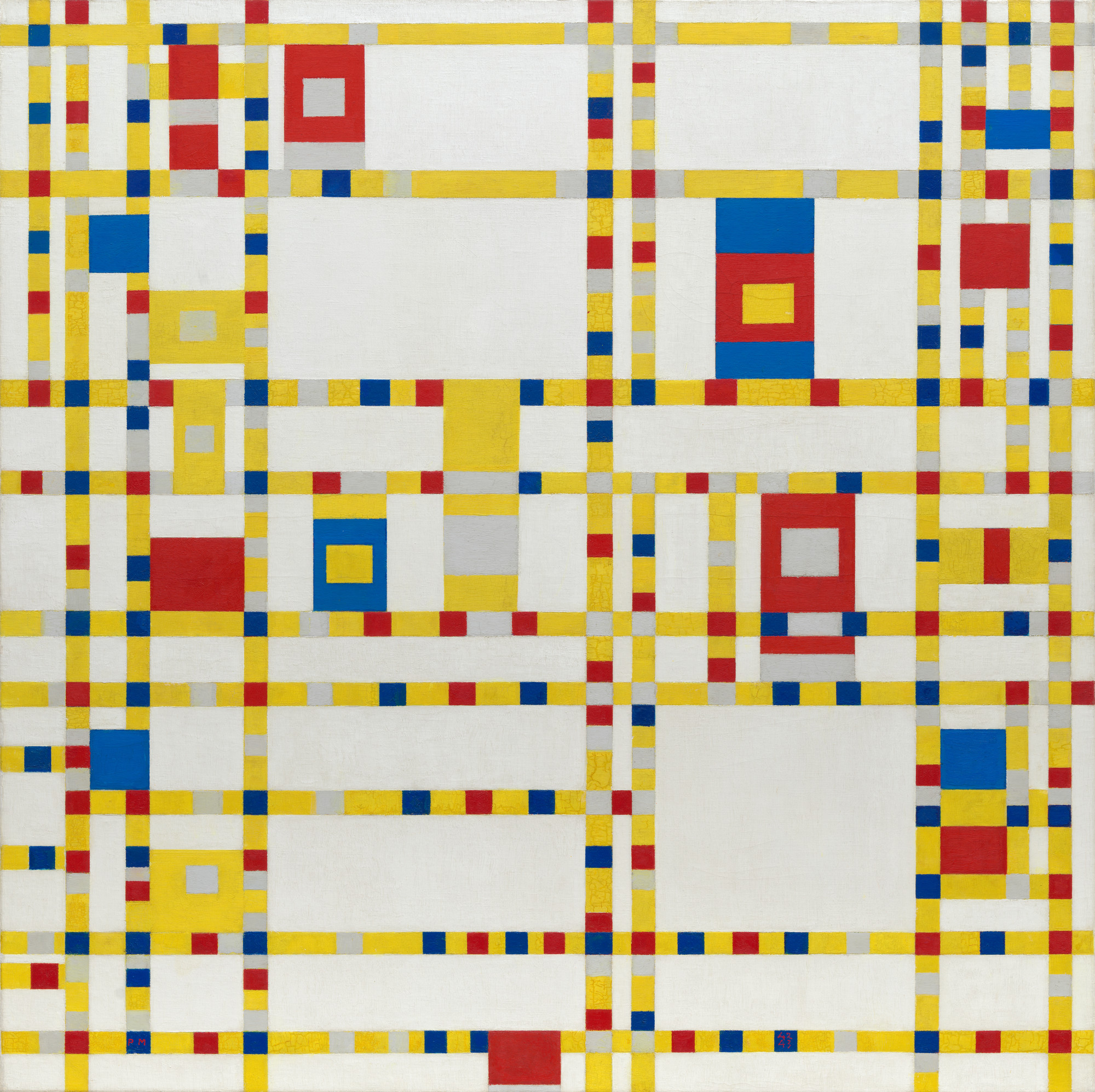 My haibun for dVerse Poets Pub Haibun Monday: Haibun Monday: Meet Piet
I'm hosting this Haibun Monday, and we have a visual prompt, a painting by the Dutch artist Piet Mondrian, entitled Broadway Boogie Woogie'. Mondrian was a pioneer of abstract art and was also passionate about dancing – not slow traditional dances like a waltz or a tango, but modern fast dancing, like the boogie woogie. Although he lived in the Netherlands and Paris most of his life, he spent his final years (1938-1944) in New York, having first left Paris for London due to the advance of fascism. New York inspired this painting, which now hangs in the Museum of Modern Art in Manhattan.