I read recently that Britain's largest bird of prey, the white-tailed eagle, is back in England after 240 years; it's hard to believe that they were once a common sight here in southern England, as they were hunted to extinction. Apparently, the last one seen was in 1780 at Culver Cliff on the Isle of Wight, where my sister lives.
Last summer, six white-tailed eagles were released on the Isle of Wight after being collected from Scotland, they were reintroduced in the 1970s. They were fitted with trackers and scientists have been following their movements. Two flew to the Yorkshire Moors, explored the east coast, and have even been spotted in Norfolk.
I would love to see one near my home but, if not, when the pandemic is over, I hope to visit my sister, where I may even encounter an eagle.
eagle-shaped shadow
wings over scented heather
a moment hovers
Kim M. Russell, 2nd February 2021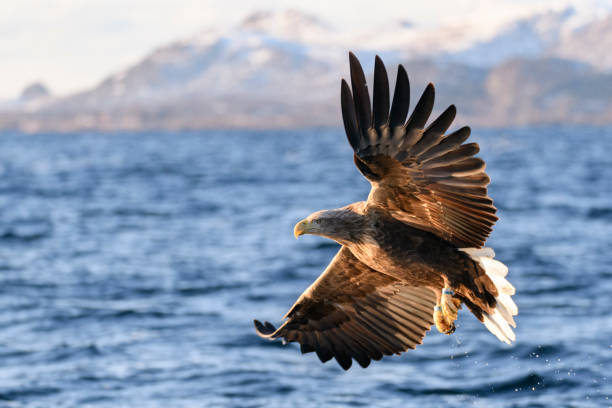 My response to dVerse Poets Pub Haibun Monday: Eagle
It's the first haibun of February and Frank is our host. He wants us to spread our wings and soar as we explore that most majestic of raptors, the eagle!
Not only has he given us some interesting facts about the eagle, but he has also shared poems by Joy Harjo and Alfred Lord Tennyson.
Today we are writing about the eagle in one to a few paragraphs of prose that evoke an experience, are non-fictional or autobiographical, and may be preceded or followed by one or more haiku—nature-based, using a seasonal image—that complement without directly repeating the contents of the prose.
Image found on istockphoto,com