to an archipelago
that dips low and green
in the silken blue of the sea
let's wander along cliffs
that fall sheer and grey
down into a bay
where granite sand
glints between stones
seashells and bleached fish bones
let's build a castle
on a deserted beach
with a moat that only waves can breach
Kim M. Russell, 30th August 2018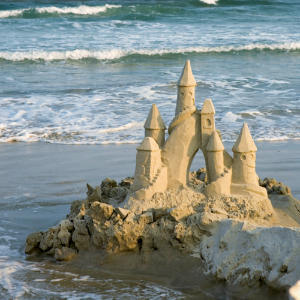 My response to Imaginary Garden with Real Toads Midweek Prompt: Going Going Gone! 
Karin tells us that she's been trying to remember poems that she once memorized and was struck by how often they began with a 'going'.  She gives as examples: 'The Lake Isle of Innisfree' by W.B. Yeats, 'The Love Song of J. Alfred Prufrock' by T.S. Eliot, As I Walked Out One Evening by W.H. Auden, Yeats' 'The Wandering Aengus' and John Donne's song 'Go and Catch a Falling Star'. It was a pleasure to dip into extracts of poems I haven't read for a while.
Karin realized that 'going' is a very common jumping-off point for a poem and asks us to use this trope in our own poems.  For extra points, she suggests that we think of writing a poem that someone might memorize and that won't immediately 'go' out of their consciousness–i.e. consider incorporating rhyme, meter; and keeping it relatively short.