I am the hare
who does not go
straight home.
I relish the cool dew
on my whiskers,
the wind in ears and scut.
Dawn steals
past the farmer's gate
and I follow in its honeyed wake,
zig-zagging fields,
up and down hills,
among the yellow daffodils,
too full of giddiness
to go straight home to bed.
Instead,
I stop,
watch the sun poke
holes in the grey,
and revel in its brightness
just a little longer
before I am ready to relinquish the day.
Kim M. Russell, 5th March 2020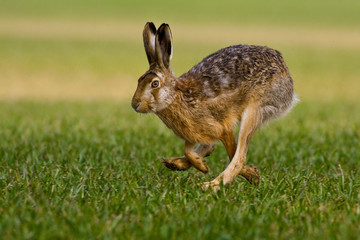 A March hare poem for dVerse Poets Pub Open Link Night, also linked to Poets and Storytellers United Writers' Pantry
Sarah and I recently read a most enjoyable, anecdotal, non-fiction book by Tom Cox, stave by stave with The Pigeonhole. It's a celebration of British countryside and eccentricity called Ring the Hill, in which Tom Cox devotes much of a chapter to the hare. He shares a list of its many colloquial names, one of which really spoke to me and compelled me to use it in a poem, hence the title of this one.
I won't be writing any poems or linking up any old ones next week, as I will be focusing on my grandson, who till be two years old tomorrow!