'…painted portraits have a life of their own that comes from deep in the soul of the painter…' Vincent van Gogh
A grubby strip of cloth
bound around his head
distracts from the bright
spot of burning reds,
a Japanese print
pinned to the wall
before he sliced his ear.
He painted the background
of his self-portrait of despair
so lovingly: a colourful diversion
of figures, flowers and gnarled
thorn branches: a source of inspiration.
Kim M. Russell, 2018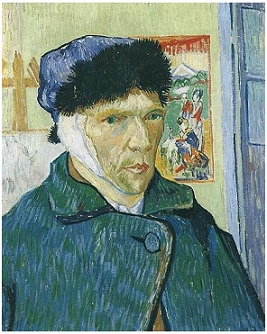 My poem for Poets United Poetry Pantry #395
Mary has shared a photo she took inside the Milwaukee Art Center a couple weeks ago, which prompted me to share a poem I 'found' in an article about a new Vincent van Gogh exhibition.